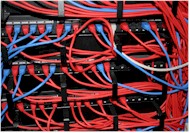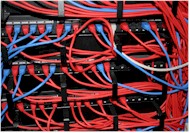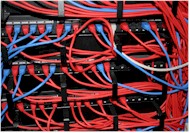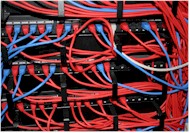 Network Engineering

Network Engineering is an important discipline practised by Revell Research Systems.

Networking is the glue that holds much of the modern enterprise together and links it with its customers and suppliers.

Businesses have become much more reliant on networks in recent years. There is pressure to adopt the latest technologies, which organisations often do, but without due regard to security.

An Internet connection, which is now mandatory for most businesses, means that every would-be hacker or virus has potential access to your most private and confidential data from anywhere they choose.

We are able to design and build networks that are both resilient and secure. We have expertise in configuring firewalls to keep the barbarians out and your confidential data in.

We can provide business and technical advice on designing and building a new network. We can train your own technical staff in the networking skills they need. We can assist them when they need specialist help or we can simply look after your network and execute the necessary tasks for you.

Skills

We have been using networking technologies since the late 1980s so we have considerable experience in using the TCP/IP protocol suite as well as other technologies such as Novell IPX/SPX and Netware.

We have considerable skills in designing and implementing modern networks. We work mainly with switched Ethernet at the physical and datalink layers in LAN environments, with IP at layer 3. We are happy using most WAN technologies available in Northern Europe.

We can configure routers, not just at the perimeter, but also inside the network. We understand what it takes to implement a secure firewall, whether using a software product such as Microsoft ISA, a hardware appliance or a brass-tacks implementation using one or more routers to screen and throttle access to the internal network.

We work with most LAN-based routing protocols such as RIP, OSPF and EIGRP.

We have architected a number of WAN VPNs that connect branch offices to the main office, including routing VoIP telephony traffic over the links.

We have experience with Cisco, 3Com, DLink and Draytek equipment.

Benefits

There is considerable benefit to organisations in connecting their offices and remote staff together. It improves internal communication and helps businesses to respond more rapidly to changes in the competitive environment.

The ability for remote staff to experience the same facilities as their office-based colleagues should not be underestimated. These facilities can include full desktop functionality and complete integration into the internal telephone system, often without incurring any call costs.

With the right infrastructure, even small businesses can support staff and offices anywhere in the world that can offer broadband connectivity.

The biggest hurdles many small-to-medium size organisations have is the lack of in-house expertise to architect the right network infrastructure and little experience in configuring complicated routing equipment.

Revell Research Systems can help you surmount these problems by advising your technical staff on what they need to do, by training them and supporting them when they run into problems. We can also just simply do it for you if you prefer.
Examples

We regularly architect and build VPN infrastructures that connect remote offices and teleworkers. These networks carry both telephony and data traffic, affording remote staff the same facilities as their office-based colleagues. These networks greatly improve internal communication and help to drive down costs by improving efficiency. They also help to improve capacity for many firms because staff become more productive when properly supported.

We are able to provide technical consultancy on a range of network engineering issues, providing your organisation with the ability to overcome difficult technical problems. We strongly believe that many IT teams would benefit from a greater understanding of networking issues and can help you improve your own internal capabilities through formal training or through ongoing technical support, coaching and mentoring of your IT staff in these issues.

For smaller firms, we can simply build and maintain the network for you, removing the technical headache completely, allowing you to focus on delivering value to your clients while relying on us to give you the technical edge over your competitors.